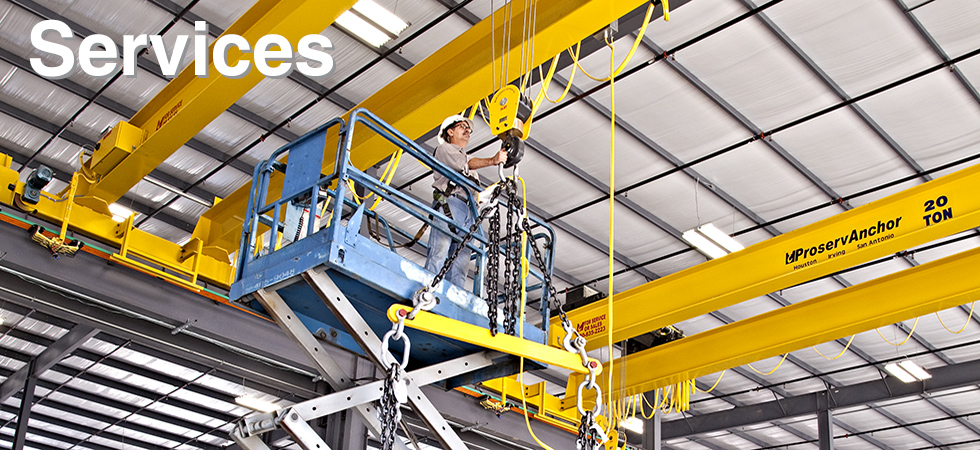 As a trusted industry leader, we are able to design, build, install, and service overhead bridge cranes. Our Service Department is equipped with factory trained technicians and radio dispatched service trucks to ensure that we can quickly and efficiently meet your service needs.
Overhead Crane Parts Servicing
ProservCrane Group understands that a disabled crane can paralyze operations and effect profits. As a master parts distributor for major crane and hoist manufacturers, we maintain a massive inventory of parts and accessories to help prevent those setbacks.
Check us out at parts.proservcrane.com
Installation
To prevent potentially dangerous safety situations we provide installation and erection services of overhead cranes with unparalleled experience and expertise. We provide erection and start-up of new hoists and cranes, plus installation and start-up of very large cranes, runways and electrification systems.
Inspection & Maintenance
We offer OSHA inspections and service on all brands of overhead cranes and hoists (AC or DC). As an industry leader in overhead crane technology, we have gone to great measures to develop a preventative inspection and maintenance program for our products.
Load Testing
Load testing and inspection of overhead cranes is required by many safety regulations, national consensus standards and manufacturers. It is the purpose of the annual condition inspection to ensure that the overall structural, mechanical and electric components of the equipment have been maintained in a safe and serviceable condition and are functioning properly according to the original equipment manufacturer's specifications.
The purpose of the load test to ensure by actual overloading, that the equipment is capable of safely lifting and moving the rated load through all designed motions. The inspection and load test do not take into account the duty factor of the equipment. The frequency of performing a load test can vary depending on regulatory jurisdiction.
At ProservCrane Group we pride ourselves in having the expertise and necessary equipment to effectively install and load test for all our material handling products. After an installation we will load test cranes at 125% of capacity verifying that the device or structure complies with OSHA specifications and safety requirements.
Refurbishing
Modernize your equipment for maximum speed and performance. You can significantly increase your crane's performance and reliability with our modernization services. Our refurbishing services combine updated crane components with knowledge of technology. Heavy-duty process cranes will most likely be subject to many upgrades during their lives because of the tough nature of their work. We can modify and refurbish any brand of existing crane or runway; electrically, mechanically and structurally.
Repairs
Our service team is available 24/7 to avoid any downtime. ProservCrane has expert technicians to help forecast component lifetime for virtually every make of crane. Whether your repairs are emergencies, planned, or upgrades, we will get the job done right and get your equipment up and running to avoid extensive downtimes.
Safety Training Courses
ProservCrane Group operator and safety training courses are designed specifically for crane operators and plant supervisory personnel who are responsible for overhead crane safety. Both experienced and novice operators will benefit from information concerning crane fundamentals for overhead and jib cranes. Additionally, our courses provide maintenance and production managers with an overview of the maintenance practices necessary to ensure maximum productivity from lifting equipment.