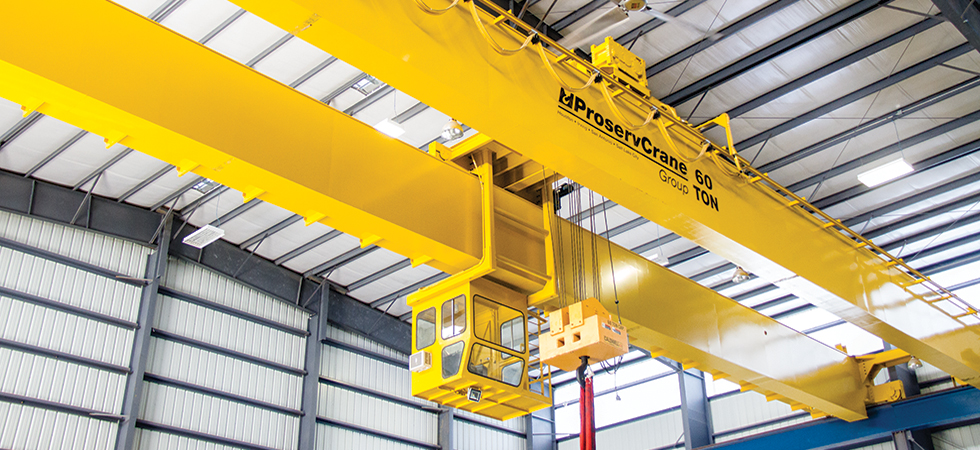 Double Girder Bridge Cranes
A typical double girder crane has capacities greater than 15 tons with spans greater than 60 ft.; or when max hook height is required. ProservCrane Group has manufactured cranes up to 180 ft. long with capacities as high as 250 tons. Our double girder cranes can be built up to a Class "E" service factor.
For a detailed description on service factors click here.
Top Running Double Girder Dual Drive Bridge Crane Up to CMAA Class "F" Service
Girder
Structural shapes based on span and capacity
End Truck
Available in 4-wheel and 8-wheel bogie configurations depending on wheel load requirements
Rotating axles are standard
The end truck frame consists of tubular steel
Truck end plates serve as rail sweeps and shock absorbing bumpers
Double flanged wheels with hardened treads are mounted on rotating axles made of forged steel
Drive wheels have tapered treads
Ball or roller bearings are used based on wheel loading
Maximum rail size is dependent upon wheel diameter and capacity
A4 dual drives as a standard
Drives
Totally enclosed Non-Ventilated(TENV) AC 60 min. vector motor
Class H Insulation
Class "F" Thermostats (Klixon) in all three phases
Motors are equipped with thermal switches imbedded in motor windings
Double reduction helical reducers for quiet operation with adjustable torque magnetic disc brakes
Bridge travel speeds are standard at 120 FPM variable speed
Speeds available through optional pricing
Controls
Motor thermal overload protection - reduces possible motor damage
Quick stop - reduces possibility of crane collision
UL recognized electric thermal overload
Dynamic braking resistors
Clearly marked wires at both ends
Optional creep logic
NEMA 4/12 enclosure
Cross Conductors
Festoon cross conductors include C-track, cable carriers, and flat cable to supply power and controls to the hoist
Galvanized heavy duty track available upon request
Paint
A standard ProservCrane finish is a safety yellow industrial enamel
For information on custom paint specifications contact our sales department
Bridge
Standard structural shape or fabricated box
Polyurethane bumpers are standard
Options
Open or enclosed cab operation with optional AC and heater
Walkway for ease of maintenance
Radio control
Bridge alarm and rotating beacon
Other special features can be added to meet your application or individual requirements. Contact your Sales Representative for pricing information.
Line and load reactors
Contact ProservCrane Group today so we can help you design the best overhead crane for your business.
---