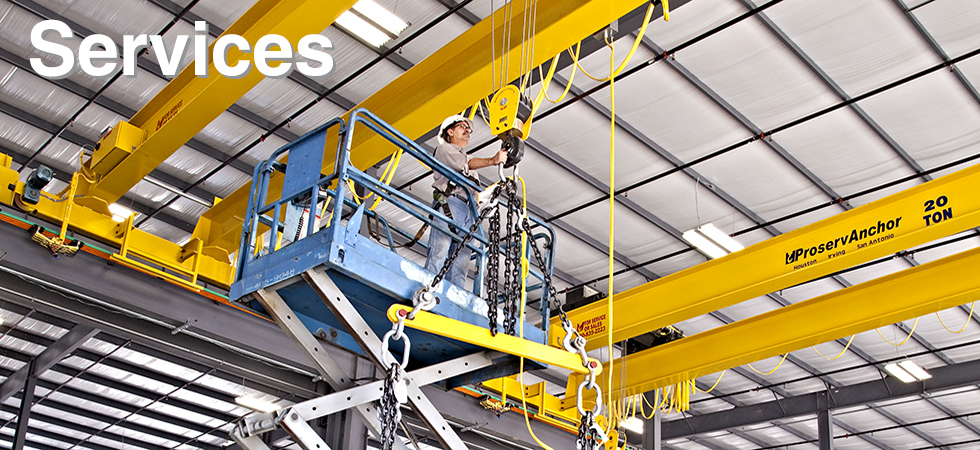 Services for Industrial Overhead Cranes
ProservCrane leads the overhead crane service industry with design, installation and repair capabilities for overhead bridge cranes. The factory-trained technicians in our services department are experienced in a variety of crane types and models. We send them to your factory, construction site or other work area from our radio dispatched trucks, so you can expect quick, efficient installation or repairs.
Our Overhead Crane Services
A broken or malfunctioning overhead crane is not only dangerous for on-site technicians, but can cripple profits and production. Our goal is to get your operations up and running as quickly and efficiently as possible. With a huge inventory of parts and accessories, we can repair or service any major brand or model of overhead crane.
Download Parts Brochure Check us out at parts.proservcrane.com
Assembly
From new hoists and cranes to runways and electrical systems, our team can erect and start up new equipment for your business. We want to ensure the safety of everyone on the floor as well as the longevity of your machinery. Request a quote today to learn more about our overhead crane assembly and installation services.
Assessment & Repairs
The cranes in your facility are designed to last for a long time, but that doesn't mean they shouldn't have regular inspections or repairs. Our OSHA inspections apply to all brands AC and DC overhead cranes and hoists. ProservCrane technicians are highly trained to check every detail, ensuring your equipment continues to work as it should.
Load Tests
According to OSHA rule, inspections for various parts can range from daily and monthly to annually. Hooks, hoist chains and wire ropes should be checked daily, but heavy and severe load tests should be inspected semi-annually or quarterly. Heavy service is considered use at 80 to100% of capacity while severe service in unusual conditions such as high or low temperatures, in poor weather and other hazardous conditions. ProservCrane wants to ensure the safety of your facility and work site year round. We can conduct load tests for up to 125% capacity to verify your equipment is up to OSHA standards.
Load tests intentionally overload overhead cranes to evaluate their condition. Your facility should be able to safely lift and move the rated load through regular motions. The duty factor of your equipment is not taken into account and these tests vary on the regulatory jurisdiction.
Restoration
Overhead cranes may be designed to last for years, but they may still need modernization to maximize performance and speed. The better your overhead cranes perform, the better production will be. Heavy-duty cranes are our most common subject for upgrades, but these are necessary to ensure they can continue to do the heavy lifting. Whatever brand of crane or runway you have, we can make electrical, mechanical or structural restorations.
Maintenance
Avoid halting production and call ProservCrane for maintenance. Our technicians are on-call 24/7 to make repairs, inspections or assemble overhead cranes on your location. For planned upgrades or emergencies, we work hard to deliver the best repairs and maintenance on time.
Continued Education Safety Training
Ensure your own crane operators and plant supervisors are up to speed on the latest changes and safety regulations for your facility. We can train new and experienced operators on overhead and job cranes for a number of conditions. Our courses review regular maintenance and production management practices to ensure your facility lifts at maximum capacity.
Call ProservCrane today for more information. We offer 24/7 emergency crane maintenance, installation and assembly and testing.
---
We service the following cities and their surrounding areas: